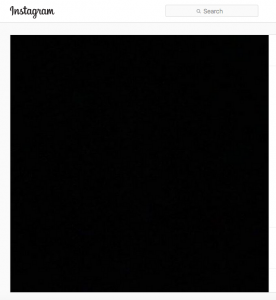 This week, black boxes like the one here flooded social media.
It began when music-industry veterans Jamila Thomas and Brianna Agyemang asked the industry to "pause" work on June 2 in solidarity with the Black community, and to protest the killing of George Floyd, using the hashtag #TheShowMustBePaused.
People beyond the industry joined in, tagging it #BlackoutTuesday. When I last checked, more than 28 million people had used this tag. (Note that if you also tagged your post #BlackLivesMatter, please go back in and remove this tag, which takes attention away from its purpose.)
Racism is top of mind for everyone with George's murder on May 25, and posting a black box is an easy way of saying, hey, I'm with you. Except that this action is as empty as the box. Taking real action on racism is hard, and maybe even uncomfortable for many of us who are white and have the privilege that goes along with our skin.
I can't get the image of George's last moments out of my mind; his "I can't breathe" and calling for his mom. I can only imagine how much worse it is for the community that sadly knows this as business as usual, just suddenly more visible.
Who am I to talk about racism? I felt the need to say something, yet struggled with what to say all week (I mean, the 10 people that read my blog need to know my thoughts, right?). So I've been reading and watching and following conversations.
In his June 1 show, James Corden clearly struggled with what to say too, and in fact if he even should be saying anything. At one point, his bandleader, Reggie Watts, talks about his experiences growing up. He starts off calmly enough but breaks down, and it breaks your heart.
Here are some of the other posts and videos I found interesting or enlightening or helpful:
So who am I to blog about racism? I don't have any advice. I don't have any answers. I'm just a mom whose heart breaks that Black, Indigenous and other mothers of colour have to worry that their kids won't come home. So why not blog about racism?
If YOU have advice, I'd love to hear it.