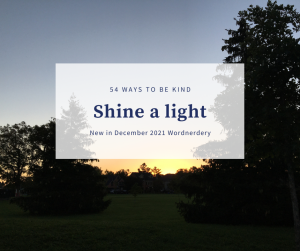 Each year, a Twitter account called Canadian Forces in the U.S. (@CAFinUS) asks the public to send cards for those away from their families for the holidays. This year, they asked for something even easier, and this really struck a chord with me:
"Hold a door. Leave a kind note. Lend a hand, an ear. Donate to a food bank. Tweet kindness. It's been a tough few years. Shine a light."
It's been a tough few years all right. Health care workers are exhausted and burned out. Restaurants, small businesses and entire industries are in trouble. Racist, sexist and homophobic attacks have increased. Just when we thought the pandemic might be easing, Omicron is spreading at a frightening speed. Increasingly, people are not just scared but angry and impatient and rude.
Let's vow to step up and shine a light of kindness in our corner of the world. My December newsletter has 54 ideas to be kind to yourself and to others, from the simple (smile, be generous with compliments, say "Thank you") to the more difficult (be patient, think twice before making an angry response to anything, step in and speak up if you hear or see someone being unkind).
What would you add? Please share in the comments. Thank you!
Wordnerdery is a quick read about words, effective/expressive writing, newsletters and more. Are you a subscriber yet? If yes, thanks for reading! If not, you can sign up right now. In keeping with Canada's anti-spam laws and just plain good manners, you can easily unsubscribe any time.