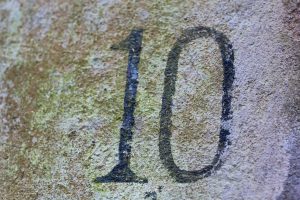 While the pandemic still dominated our lives in 2021, you may have tired of reading about it. I was tired of writing about it, too. So there's likely a connection to the lack of "pandemic posts" in the 10 most-viewed posts on my blog this year. Here they are:
1. You share my dislike of buzzwords and jargon, as evidenced by reaction to 100+ buzzwords and jargon bugging us in 2021. How are agile, reach out, synergize, unpack, pivot, solution and more still so much in use? My post shares why we shouldn't use jargon and gives some alternatives.
2. Demi Lovato and other pop stars coming out as non-binary this year brought a renewed look at the use of personal pronouns. Some question the value of using "them" instead of "he" or "her." In He/she/they: Here's why it's actually kind to share your personal pronouns, I share the thinking about why. Bottom line: It's more inclusive and respectful. Also, it's not about you.
3. If you love words and wordplay, you might enjoy the amusing Bulwer-Lytton Fiction Contest. This contest invites entrants to come up with an over-the-top sentence of 50 or 60 words that could launch a bad novel. Read some of the hilarious winners in More awful writing to inspire you.
4. January is the famous month of new beginnings, and this year I hit a milestone of 30 years (!) in business. In And just like that, 30 years have flown by, I talk about the early days (ugh, bulky equipment including a fax machine) and give my top four tips for running your own business, with or without a pandemic getting in your way.
5. We saw a disturbing rise in hate crimes this year, and were appalled at the evidence of the treatment of Indigenous people in Canada in the discovery of unmarked graves at residential "schools." It's hard to know what one person can do to make a difference, but I share some thoughts in Let's not let others be treated as 'less than.' I quite like the advice to "Be examples of love and compassion."
6. My own blogging anniversary (#14) in January inspired me to look for the current thinking about the value of blogs. In This question comes up every year: Is blogging dead? (spoiler) I reveal that it was still very much alive heading into 2021.
7. Sesame Street isn't just a show to educate and entertain children; its writers aim to reach adults, too. Find out how they use stories, references to pop culture and other ways to do it in 7 writing tips we can learn from Sesame Street.
8. Does it matter if you dangle your modifier? It might, although it's not the worst crime against good writing, as I explain in So what if you dangle your modifier.
9. My "secret" for turning a potentially boring subject into an interesting read: Find the human. Learn more about the questions that can help you tease out the human angle in Find the heart of your story with (many) questions.
10. What stops you in your tracks when thumbing through social media? Chances are it's a video. Find out how you can create your own no-frills video in 'Stop the scroll' with DIY video in just 6 steps.
As always, thank you for taking the time to read the Red Jacket Diaries. And good riddance to 2021!
Image by Adrian Curiel on Unsplash.
Related reading:
Top 10 posts of 2020
Top 10 posts of 2019
Top 10 posts of 2018