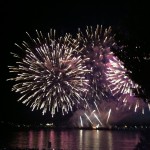 If you read this blog, you know that it's been one helluva a year. Recognizing the fragility of life, my new mantra ("a frequently repeated word, phrase, etc.; a slogan," to quote the Canadian Oxford Dictionary) is "Why not?"
When an invitation for something unusual arrives, I will not think of the many reasons — cost, schedule conflicts, timing, whatever — not to do something, I will dismiss them with a cheery, "Why not?" and work out the logistics later.
That phrase as my guide means I recently said yes to a relatively spontaneous invitation to view the last evening of the Honda Celebration of Light fireworks in Vancouver, and to go on a Helijet ride to Victoria. Of course written out like that, it sounds like a no-brainer — why would you ever turn down that kind of invitation? (Airfare, what to do about the dog, taking two days off work, etc.) My husband and I spent a long weekend with the friends who invited us, and we had a great time.
My mother and I also travelled to California to mark what would have been my brother's 62nd birthday with his partner (again, airfa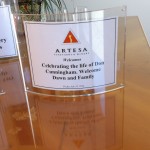 re, dog, three days off work, plus hotel, meals, etc.). We visited four of Don's fave wineries — including Artesa, where we received special treatment and thoughtful recognition of our mission to celebrate Don — and stayed overnight in Napa at Lavender, a Four Sisters Inn. Sure, we had an emotional moment or two, but it was a wonderful trip.
This year, I also said "Why not?" to an invitation to climb the 1,776-step CN Tower. Never mind that I do not run or do anything more athletic than walk. I trained, sort of, by going up and down the 10 steps to our basement. The climb was fine, and my CommsCrusaders team raised $2,255 for the World Wildlife Fund. I also learned that we are all capable of much more than we may think.
I said "Why not?" to the 5K Push For Your Tush walk with a friend, raising $1,250 for colon cancer research and support. Not that 5K is a huge amount; I've walked it before, and it wasn't a timed event. Still, it's a bit uncomfortable asking people for money, or at least it was. Be prepared that I will be asking for more when I do it again!
Now that "what to do with the dog" is not longer an issue (sigh), there may be fewer obstacles to going somewhere or doing something. I still plan to take the "Why not?" approach to life. Who's with me?