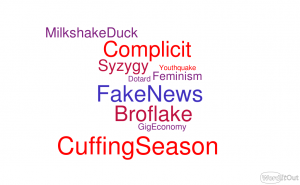 If you're a word nerd, like me, you probably look forward to the release in early January of the "words of the year" from the previous year. They're out!
In past years, the words chosen were often catchy new portmanteaux – words formed by blending two or more distinct forms (smoke + fog = smog). This year, there seem to be fewer portmanteaux and more existing words that reflect the news and political climate.
Who decides and how? Among them:
First, the number-one picks:
Complicit (Dictionary.com's #1, with a 10,000% increase in daily average lookups after a Saturday Night Live skit): "Choosing to be involved in an illegal or questionable act, especially with others; having partnership or involvement in wrongdoing."
Fake news (Collins' #1 after its use has risen by 365% since 2016; also #1 for ADS and for Lake Superior State University's words they'd like to banish): "False, often sensational, information disseminated under the guise of news reporting" says Collins; "Disinformation or falsehoods presented as real news," says ADS.
Feminism (M-W's #1 after a 70% increase in searches): "The theory of the political, economic, and social equality of the sexes" and "Organized activity on behalf of women's rights and interests."
Here are more of the top-of-mind words for 2017:
Broflake (Oxford): From the original association of snowflake with uniqueness, which morphed into "to dismiss someone who considers themselves to be worthy of special treatment without earning it," to "A man who is readily upset or offended by progressive attitudes that conflict with his more conventional or conservative views."
Cuffing season (Collins): "The period of autumn and winter, when single people are considered likely to seek settled relationships rather than engage in casual affairs."
Dotard (M-W): "A person in his or her dotage." Dotage is "a state or period of senile decay marked by decline of mental poise and alertness." You know who was called this.
Gig economy (Collins): "An economy built around temporary or freelance workers."
Milkshake duck (Oxford): "A person or thing that initially inspires delight on social media but is soon revealed to have a distasteful or repugnant past." From a tweet joking about the fickle nature of internet fame, with a duck that drinks milkshakes but is found to be racist five seconds later.
Syzygy (M-W): "The nearly straight-line configuration of three celestial bodies (such as the sun, moon, and earth during a solar or lunar eclipse) in a gravitational system."
Youthquake (Oxford's #1 after a "fivefold increase" in mentions): "A significant cultural, political, or social change arising from the actions or influence of young people."
I quite like "dotard" and "milkshake duck." What are your faves?
Word cloud by Word It Out.
Related reading:
My post in 2015 gives more detail on why we like/don't like new words