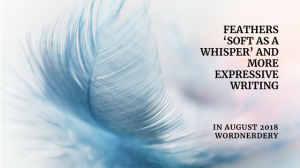 Do you want to explain something complicated, spark a flash of understanding or create a feeling? Reach for analogies.
Analogies – metaphors and similes, which show how two things are alike – help readers quickly get your meaning.
"Tools such as analogies and metaphors help readers understand something new in terms of what they already know," says Roy Peter Clark in HELP! for Writers.
Don Ranly, professor emeritus of the Missouri School of Journalism, says, "Use comparisons; nothing means anything except as compared to something else."
My August newsletter, Wordnerdery, shares some examples I've collected, such as this gem:
"I kept thinking about…the way Sam had strolled down the field with a hen under one arm, like he was carrying a precious parcel. The feathers on her chest had been as soft as a whisper."
– JoJo Moyes in After You
Read more examples in Wordnerdery – and please share any appealing analogies you've run across in the comments below.
Wordnerdery is a quick read about words, effective/expressive writing, newsletters and more. Are you a subscriber yet? If yes, thanks for reading! If not, you can sign up right now. In keeping with Canada's anti-spam laws and just plain good manners, you can easily unsubscribe any time.
Related reading:
Short attention span? Time for expressive writing
Madness 'like a fault line' and more expressive writing