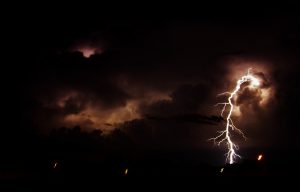 Who doesn't love a slice of deliberately bad writing?
Yes, word nerds, gather 'round. It's time to celebrate the Bulwer Lytton Fiction Contest, "where 'www' means 'wretched writers welcome.'"
The contest awards the best of the worst opening sentences, or what the organizers call "truly awful writing." The inspiration comes from the line you probably know ("It was a dark and stormy night") from the opening of a novel you likely don't (Edward Bulwer-Lytton's Paul Clifford).
The "whimsical" literary contest has been around since 1982, the "misbegotten brainchild" of Professor Scott Rice at San Jose State University. Writers appear to get points for cramming as much detail as possible into one sentence. Puns are welcome.
Winners are usually announced at the end of June, and as far as I can tell, the 2018 winners are the latest. Top prize goes to Tanya Menezes of San Jose, CA, with this:
"Cassie smiled as she clenched John's hand on the edge of an abandoned pier while the sun set gracefully over the water, and as the final rays of light disappeared into a star-filled sky she knew that there was only one thing left to do to finish off this wonderful evening, which was to throw his severed appendage into the ocean's depth so it could never be found again – and maybe get some custard after."
This made me laugh:
"It was a dark and stormy night: the wind whistled like an old man with drugstore teeth trying to teach his grandkids to say, "She sells sea shells by the sea shore," causing the little shavers to wonder why Peepaw was suddenly talking like Daffy Duck, whether he'd just had a stroke, and if any of them was in the will." –  Mark Schweizer of Tryon, NC (winner in the Dark & Stormy category)
Another dishonorable mention:
"For rookie detective Lara Stinson, the hardest aspect of her most recent case was not discovering that the adolescent victim had been thrown from the tenth story of the apartment building by his own grandmother, but rather trying to spell 'defenestration by octogenarian' in her subsequent report." – Thomas Purdy of Roseville, CA
And this:
"Once in a great while a story is so magnificent, so grand, so great that it begs to be told and while this is not one of those stories, it's nice to know that they're out there." – Douglas A. Bass of Farmington, NY
If you have your own truly awful submission, send it any time to Professor Rice at srice AT pacbell.net. (My friend Sue and I really must get on this. The game is afoot!)
Fun fact: Lytton also coined other phrases you  might know; "The pen is mightier than the sword" and "the great unwashed" among them.
Image: Ken Treloar on Unsplash.
Related reading:
Truly awful writing to inspire you (from 2016)
Flex your creativity with truly awful writing (from 2012)
I first wrote about this amusing contest in 2009