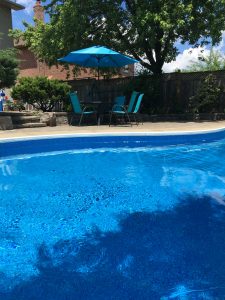 You know the year is already half over when it's pool season in Canada. That means it's time to look back at the most-viewed posts on my Red Jacket Diaries blog so far in 2019.
I'm often inspired to blog about what's going on around me, such as in these posts:
My own blogging anniversary in January prompted me to look into the usual rumours of the death of blogging. Still not true (spoiler), as I reveal in Is blogging dead in 2019?
How to know when it's time for a refresh talks about how often and why people should think about redesigning their website. Of course, it was inspired by my own website refresh.
Word-a-day calendars, books about words and a new Caps and Spelling book? These are some of the 10 ways to spot a word nerd, posted to mark Word Nerd Day. Yes, there is such a thing.
I like to summarize events that may be of interest to readers:
And as I like to tell people, words are my business, so I also write about jargon, expressive words and the mechanics of writing. Here are some posts that struck a chord with readers:
As always, thank you for taking the time to read (and sometimes, comment on) the Red Jacket Dairies this year. Enjoy the rest of your summer!
Related reading:
Best of the blog to June 2018
Best of the blog to June 2017