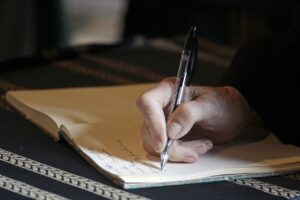 A new year, a new series of social media posts you might have missed, once again all about writing. Yes, you could say that is a particular interest of mine.
There's some advice about getting back into writing after the holidays, tips to be a better writer, what you can learn about writing from Taylor Swift and more:
Bonus: Here's a writing tip that made me laugh:
"Hike in groups. Bears like to have options." Using humour to make bear facts interesting and keep park visitors safe is all part of the job for Matt Turner; Elliott Almond shares the details with Nieman Storyboard.
What other helpful, interesting or funny posts have you found online? Please share in the comments or drop me a note.
Related reading:
Links from November, all about writing better emails
Links from October, again all to do with writing ("Thing 1" is my fave)
Links from August, including tips for better storytelling, headlines and business copy