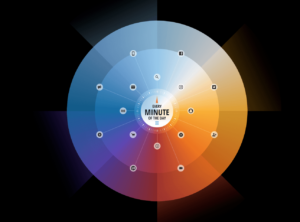 The latest "Data Never Sleeps" shows the breathtaking amount of data created every minute on the internet: (See the full infographic here.)
We're asking Google questions (5.9 million every minute), uploading to YouTube (500 hours), sharing photos on Instagram (66,000). We're tweeting (347,000), sharing content on Facebook (1.7 million) and sending email (231 million). Not to mention the rising star, TikTok!
No wonder your chances of being on the right channel at the right time to see a specific post are, well, zero. So here again are some of the helpful, interesting links I've shared that you might have missed, all to do with writing.
What other helpful, interesting or funny posts have you found online? Please share in the comments or drop me a note.
ICYMI is In Case You Missed It.
Related reading:
Links from August, including tips for better storytelling, headlines and business copy
Links from June, including 15 weak adjectives to delete, 7 tools for writers and 5 accessibility ideas
Links from April, including word choice, writing tips and advice for introverts