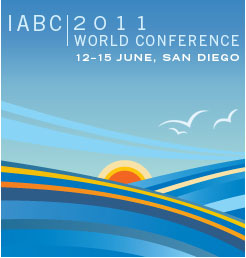 "Communicatrix" Colleen Wainwright had a great line in her June newsletter that sums up the value of the 2011 IABC World Conference I just attended in San Diego:
"We're social beings, and to truly learn, grow and stay inspired, we need to get out, bask in each other's energy, and soak up each other's stories in person."
There is a buzz that happens at the IABC conference that I haven't encountered elsewhere. Give a bunch of communicators a chance to meet, and connect, and learn from each other, and talk, and do we ever!
Storytelling was a common thread that ran throughout many of the sessions. From the yellow box of Cheerios and the marshmallow test described by Jonah Lehrer, to the birds flying backwards in Don Ranly's talk and the young girl beating back ravenous hyenas with a stick mentioned by Sheryl WuDunn, stories and their importance marked many of the sessions. No wonder; stories capture interest, make concepts clear and memorable, and inspire action.
I'll share more on specific sessions in another post, but overall they provided a wide range of topics and the latest thinking in areas like storytelling, social media, presentations and more. The opening reception featured delicious food and drink, although (small quibble) it was too bad it didn't happen in an iconic San Diego location along the lines of New York's Rainbow Room and Toronto's Royal Ontario Museum.
But one of the best things about the IABC World Conference is the people. I met some completely new people with whom I shared great conversation, watched part of Monday's Vancouver-Boston hockey game, exchanged tips and even a hug. I finally met face-to-face with at least one person I only knew online, got together with friends from past conferences and made new friends.
The conference was thought-provoking, exhausting, energizing and fun. But now that I'm back to the real world of work and school and family, what I miss most is starting my day with a latte and muffin with Donna Papacosta — a good friend, colleague and podcast expert, as well as the best conference roomie ever!
Did you see my other conference summaries? Here they are: