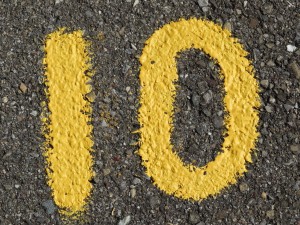 (Updated Jan. 15, 2020.) January is a big month here at Get It Write headquarters. After celebrating 26 years in business earlier in the month, my next milestone is 10 years of blogging.
I've learned a lot in that time (see nine things I listed at my nine-year anniversary), including that I can't manage more than one post a week. And that's okay. I'm not aiming to be an authoritative site posting daily must-see information.
Instead, you'll find tips for writing and social media, experiences I've had running my own business and "do's and don'ts" for things like newsletters, captions and tools to summarize Twitter chats. I've vented about jargon, had fun with words and recapped interesting meetings. I shared tips for recovering when I lost my blogging mojo and when I hit my worst business slump ever. I sometimes post things that make me laugh, or that touch my heart.
Despite the frequent cries that blogs are dying, "Blogs continue to work well," says Shel Holtz, ABC. He says that research by the Content Marketing Institute finds that blogging continues to deliver returns for marketers. Social Media Today reports that companies that blog generate 67% to 88% more leads per month than those that don't.
In 2019, I collected more opinions about the value of blogging in "Is blogging dead in 2019?" Short answer: No.
For small businesses like mine, blogging is a way to "get known, get remembered and get business," as Donna Papacosta puts it. In her own blog post, she says, "blogging has served as a cornerstone of content marketing for my communications practice, leading to innumerable benefits, including great search engine optimization."
Should bloggers join the crowds who seem to be publishing on LinkedIn instead of blogging? Pam Neely (sorry, link no longer live) calls this "building your house on rented land," and warns not to abandon your blog for LinkedIn. If you must, she says, "Publish your content on your blog first."
Chris Brogan likewise believes in the importance of the "home base" that is your blog. He strongly recommends a blog to create a "store front" where people can learn about you; generate attention from search traffic; and earn potential customers.
And don't discount the value of blogs as a place to give people a glimpse of who you are and what you're like.
Related reading:
10 ways to jump-start your blogging mojo
Seven things I learned in seven years of blogging
Here's why you want to blog