As usual, festive decorations have been everywhere even before we got Halloween and Thanksgiving out of the way. So it's time for my fifth annual list of holiday gift ideas for the readers, writers and word nerds in your life:
1. Greeting card gift pack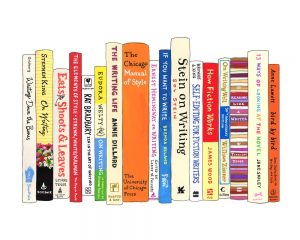 A pack of folding greeting cards (blank inside for your own insightful messages), illustrated with classic books on how to write and edit. $20 US from IdealBookshelf.
2. Scrabble wall art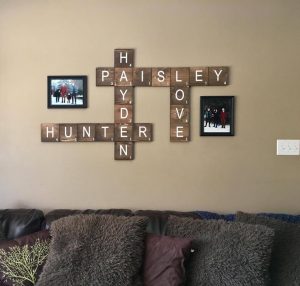 Choose individual tiles to spell out names or inspirational sayings. $4 CA per tile, from Canadian Etsy vendor scrabbletilechick. (No longer available.)
3. Literary scarves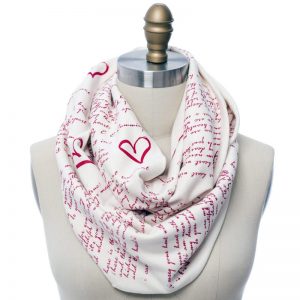 Pride and Prejudice, Still I Rise, Nancy Drew and others. This one is my fave, e.e. cummings' "I carry your heart." $48 US ($63.61 CA) from Storiarts.
4. More literary items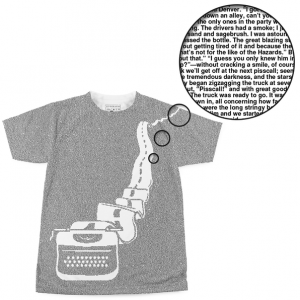 Bookish gifts (tees, scarves, totebags) representing Outlander, The Princess Bride, Hamlet, Little Women and lots more. $39 – $49 US, online at Litographs and in stores across the U.S. – and a lone Canadian outpost at Mill Street Books in Mississippi Mills, ON.
5. Posture corrector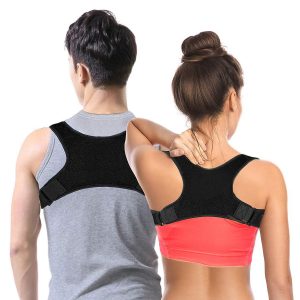 Someone's been sitting at the computer for too long? Here's a reminder to sit straight, with posture support that's apparently one of Amazon's best sellers. $17 CA.
6. Edvard Munch's The Scream socks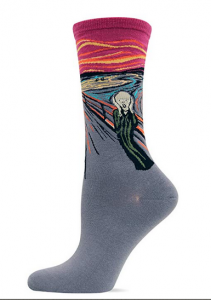 As I've said before, because some days are like this. $10 CA from Amazon.ca.
7. A new desk calendar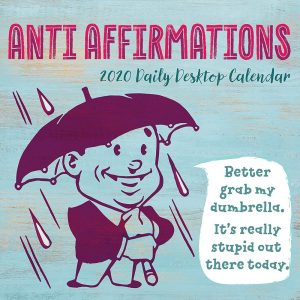 Anti-Affirmations, The Daily Bitch  ("packed with attitude") and Forgotten English ("vanishing vocabulary and folklore") are no longer available, but try You are a Badass. Roughly $24 CA from Amazon.ca.
8. Buffalo check fabric storage tote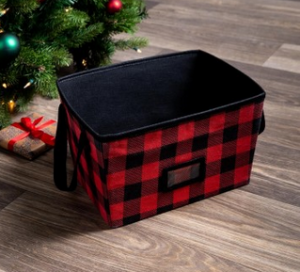 Stash extra supplies or files in this cheery tote from Kitchen Stuff Plus. (No longer available.)
9. Screen cleaner kit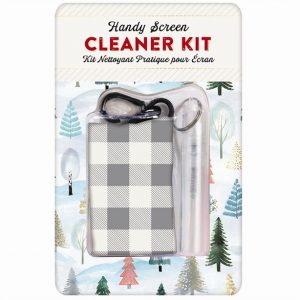 If you spend a lot of time on your computer, you'll end up with fingerprints. My iPad is the worst for collecting smudges (all those Words With Friends games!). Here's a handy way to remind yourself to clean your screens. $7.50 CA from !ndigo. (No longer available.)
10. Power bank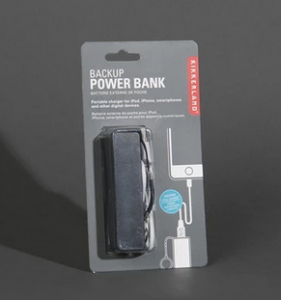 For all those times you race out the door and discover your phone battery is low. $18 CA from the Drake General Store. (No longer available but Staples.ca has a range of portable power banks.)
11. Phone charging shelf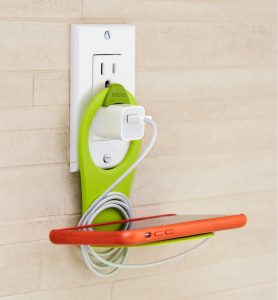 Convert any wall outlet into a cellphone charging station with this folding shelf in charcoal, cream or lime green. $11.95 CA from Lee Valley Tools. I have this in my kitchen.
12. Mobile phone/tablet stand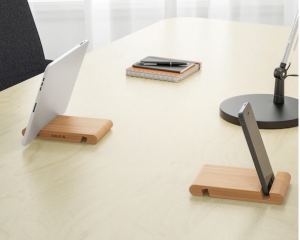 Prop up your cellphone or tablet with this bamboo stand, just $3.49 CA from IKEA. Two slots to handle different sizes, but check that it will fit over your protective case. (You do have one, don't you?)
Thanks to my friend Sue and my cousin Pat for the suggestions after last year's roundup of gift ideas. If you have any other brilliant ideas, please share in the comments. Note that I'm not getting any money for suggesting these ideas; I just think they'd make great gifts.

Updated November 13, 2023.
Past ideas for inspiration (some are still available):
Desk water carafe + other 2018 ideas
'Keep Clam and Proofread' mug + more 2017 ideas
The 'Reading is Sexy' mug + more 2016 ideas
The first appearance of the 7-year pen + more 2015 ideas