All the Halloween decorations are stashed for the season. American Thanksgiving is on the doorstep. Warm weather on the weekend had neighbours putting up their Christmas lights. Someone I know (not naming names) had a Christmas tree up on November 3.
So, it's time for my annual list of holiday gifts for the readers, writers and word nerds in your life. None of these are affiliate links; I just like them. Most of these are Canadian sources.
As always, I encourage you to shop local. Support your stores, galleries, artists and Etsy sellers. Give gift certificates for a local restaurant or concert, or buy new or gently-used books from an independent bookstore or thrift store. Or, look at these:

FOR THE OFFICE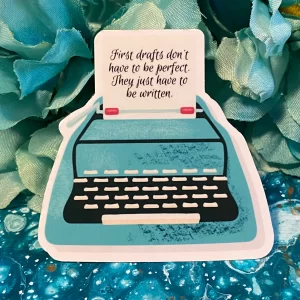 1. "First drafts don't have to be perfect" stickers
Here's a good reminder for writers who have a hard time getting started. $1.50 from Canadian seller BiblioficDesigns.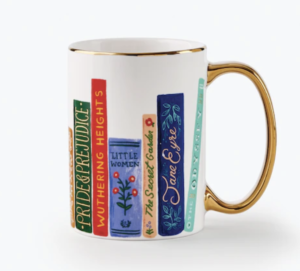 2. Library book mug
Porcelain mug with an image of classic book spines, like Little Women and Jane Eyre. From Chapters Indigo. $26.99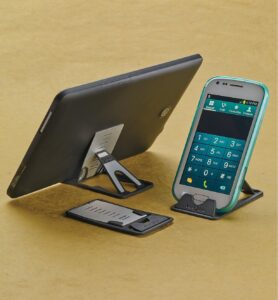 3. QuikStand
Prop up your smartphone, tablet or e-reader with this aluminum and polypropylene stand from Canadian-owned Lee Valley Tools. $14.90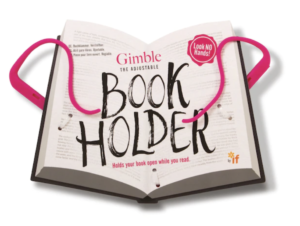 4. The Gimble Book Holder
Isn't this quirky? Holds a book open way better than the stapler that I have sometimes used. Can be adjusted for books of different sizes. From Chapters Indigo. $9.99.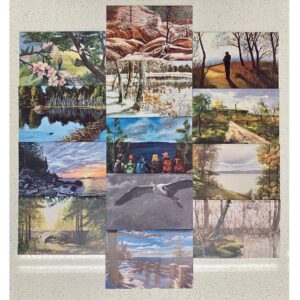 5. Bruce Trail Conservancy note cards
Set of 13 note cards featuring original art inspired by the Bruce Trail. Blank inside ready for you to write your weekly keep-in-touch notes. (You are sending hand-written notes, aren't you?) $20 from the Bruce Trail Conservancy.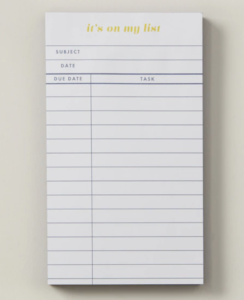 6. Library card sticky notes
A set of 100 sticky notes styled after an old-school library card. Remember those? Or maybe I should say, have you ever heard of those? $9.99 from Chapters Indigo.
WEARABLES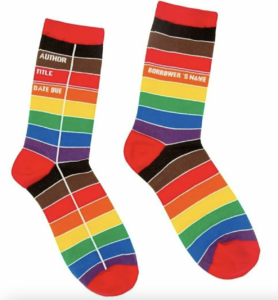 7. Library card/Pride socks
Unisex socks made of cotton/polyester/spandex. Purple Moose says purchases from their site help fund literacy programs and book donations to communities in need. (No longer available.)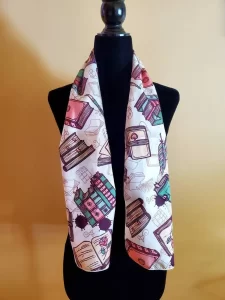 8. Book Lover scarf
Fine silk habotai fabric, 10 x 45 inches, from Montreal Etsy seller NerdySkirt. She also has a beautiful one based on Emily Dickinson's "Hope is the thing with feathers" poem. $53.65.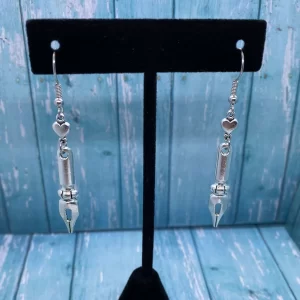 9. Fountain pen nib earrings
Polished silver-plated steel earrings from Etsy artist BiblioficDesigns. $20.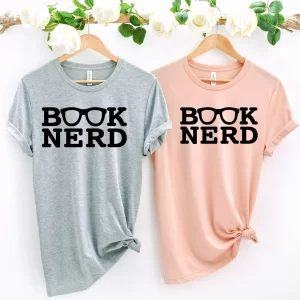 10. Book Nerd t-shirt
100% cotton in a choice of colours from Etsy artist EmmaBoutiqueCA. About $25.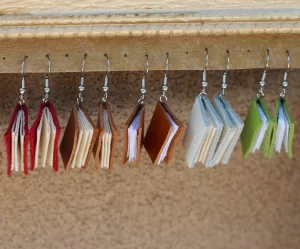 11. Book earrings
More earrings because they are just so cute. Handmade of recycled leather/vinyl with hypoallergenic nickel-free hooks. "Feather light." From Ottawa Etsy artist LittleSomethingsEtc. $26.
FOR SOMETHING DIFFERENT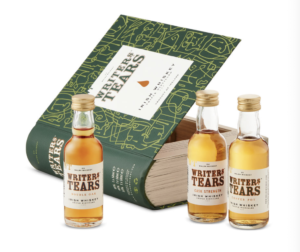 12. Writer's Tears Copper Pot Irish Whiskey
I am not normally a whiskey drinker but come on. That name! This Irish single malt whiskey has "notes of caramel and citrus peel, along with oak and pepper." A 700 ml bottle is $59.95. Even more appropriate (so of course now out of stock) is a gift pack of three 50 ml bottles, packaged in a reusable book container. From the LCBO.
Do you have any other fun, quirky or just plain appropriate ideas? Please share in the comments.
(Updated November 13, 2023.)
Related reading:
Check my posts from 2021, 2020, 2019, 2018, 2017, 2016 and 2015 for more inspiration (and some items are actually still available).