The "gifting season" is almost upon us! I heard this term for the first time the other day, and you have to admit it is politically correct. No dancing around what holiday you celebrate, even if it does reduce the season to an exchange of gifts.
In any case, it's time for my annual list of ideas for the readers, writers and word nerds in your life. As always, none of these are affiliate links; I just think they are fun. Most are Canadian sources. All can easily be replaced by a gift certificate for a  restaurant or store to encourage shopping local.
FOR THE OFFICE
1. Charging cable savers for iPhone or iPad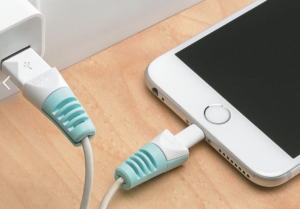 Reinforce a common failure point on charge cables with something other than duct tape (just me?). Package of two, $8.90 from Canadian-owned Lee Valley Tools.
2. Notebook with pen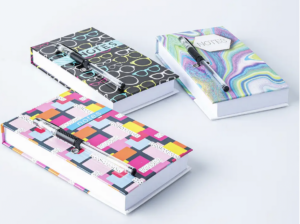 A 4.5" x 8" notebook with lined pages and pen. Assorted designs but I like the eyeglasses one. $9.99 (on sale for $5.99 when I saw it) at Kitchen Stuff Plus.
3. Swirly Sky journal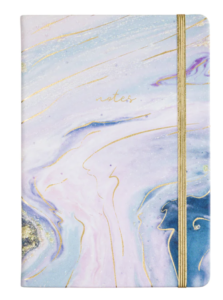 Lined 6" x 8" pages, perfect for your gratitude journal or other writing. $17.99 at Staples.
4.   "You've got this"  mug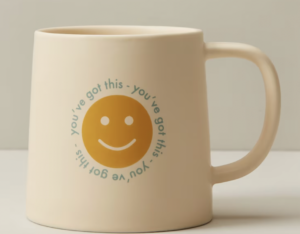 How's this for support with your boost of caffeine? A smiley face and "You've got this" adorn this 14.5-oz/r30-ml glazed porcelain mug. $14.99 from !ndigo
5.  iWalk mini portable power bank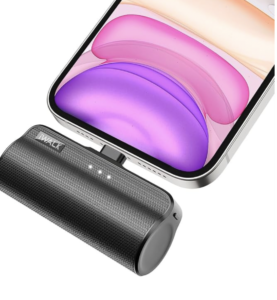 Ultra-compact emergency portable charger for your iPhone when you're out and about. (Scroll down to check iPhone version compatibility.) $25.99 on Amazon.
6. Concrete bookends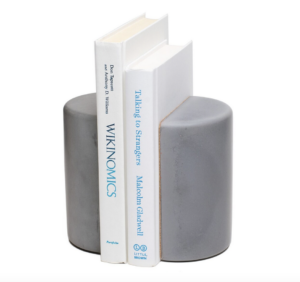 Now these will stand up to your books! In white, grey or black. $57.99 from Etsy seller House of Crete in Montreal. (The link to this seller is sometimes iffy, so please search Etsy if you want to check this out.)
WEARABLES
7.  Bookshelf stud earrings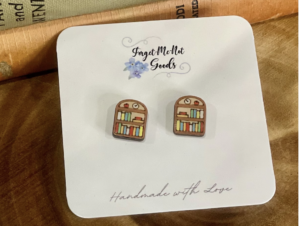 Wooden stud earrings with stainless steel posts. $15 from B.C. seller ForgetMeNotGoodsShop on Etsy.
8.  "I'm with the banned" t-shirt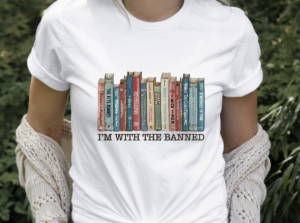 What's with all this banning of books that don't deserve to be banned? Author Stephen King advised school children, "if they ban a book in your school, haul your ass to the nearest bookstore or library ASAP and find out what they don't want you to read." This tee is $25 from Etsy seller Shayna at CoolBeanCustomVinyl.
FOR FUN
9.  Book Christmas ornament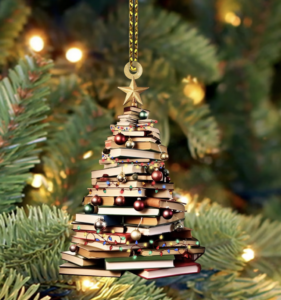 Acrylic ornament that's a 2D image of a stack of books that looks 3D. $23.64 (was on sale for $16.24 when I last checked) from Etsy seller LoveDispatchGift.
10. 500-piece "Banned Books" puzzle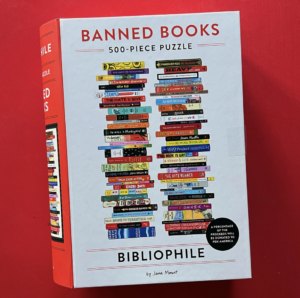 A percentage of the proceeds of this puzzle buy will be donated to PEN America, devoted to defending and celebrating free expression. $27 from Ideal Bookshelf.
11.   "I love to read" keychain
Stainless steel keychain with a metal charm of books with "[Heart] to read." $14.85 from Etsy seller Chrysdesignsjewelry.
12.  Holstee Manifesto poster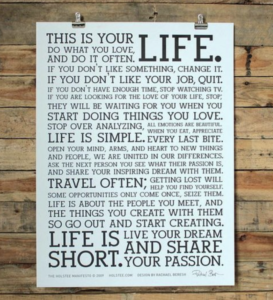 Inspire your work and life with the famous "This is your life. Do what you love, and do it often" poster. 12" x 16". $36 from Good Vibes on Main.
Do you have any other fun, quirky or just plain appropriate gift ideas? Please share in the comments.
Related reading:
Check my posts from 2022,  2021, 2020, 2019, 2018, 2017, 2016 and 2015 for more inspiration (and some items are actually still available).