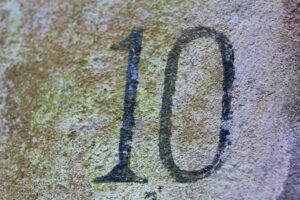 When June winds to a close, I like to look back and see what posts drew the most readers over the previous months. A peek under the blog hood shows these were the 10 most-viewed posts this year:
1. Have you been swept up in the Wordle word craze? Like many, I've been playing it and its Canadian counterpart, Canuckle (ending July 1, boo) most days. My most popular post, Shh – my secrets to (sort of) success with Wordle, gives my strategies for starter words, narrowing the options and more. It still regularly takes me four tries, although my best was two.
2. Another popular post collects the pandemic-related words that earned spots on Word of the Year lists. Find them and other non-Covid words in Pandemic words still dominated our lives in 2021.
3. I marked National Grammar Day in March with A look at the use and misuse of apostrophes, including in signs like Farmers (or Farmer's) Market and grocer's apostrophes ("banana's").
4. Back in February, many of us were caught up in the 2022 Winter Olympics. I'm always on the lookout for jargon and insider language, and oh boy, do snowboarders have it. I looked up and explain some of the fascinating terms in Snowboarder jargon and insider language at the Olympics, decoded.
This year, I began collecting some of the links I've shared on social media, since they disappear online so quickly. The links often cover writing tips, word choices, inclusive language, jargon to avoid and more, and readers apparently enjoyed these collections, too.
5.  ICYMI, March edition: Tips for improving readability; steps to be a Diversity, Equity and Inclusion ally; and a funny royal proofreading fail.
6. ICYMI, April edition:  Word choices, including "redundant acronyms;" writing tips, including five ways to create "fizz" when crafting email subject lines; and four tips for overcoming imposter syndrome.
7  ICYMI, February edition: How to talk about and support Ukraine; plain language tips and jargon to avoid; and a break from bad news.
8. ICYMI, January edition: Writing tips, including making metaphors memorable; cliches and overused words to avoid; and a couple of powerful stories.
The last two most-read posts are pretty much a yearly check-in:
9. I celebrated another year in business in January, which I wrote about in Cheers to 31 years in business 'getting it write.'
10. Every year, you hear "Blogging is dead." So every year, I like to go looking for the latest commentary. Is it? Find out (spoiler) in My yearly question answered, and why blogging isn't dead.
As always, I appreciate you stopping by the Red Jacket Diaries. Happy summer!
Related reading:
The top 10 halfway through 2021
The top 10 halfway through 2020
The top 10 halfway through 2019 (ah, remember those good old days?)
"10" image by Adrian Curiel on Unsplash.